AI email responder for Gmail
Welcome to the future of email communication. With Gmail and superReply, you can take your productivity and professionalism to the next level. 
Improve your productivity and professionalism with this powerful Chrome extension.
superReply seamlessly integrates into your Gmail, making it easy to reply to emails using artificial intelligence.
Reply to emails with just one click and experience the ease and efficiency of superReply.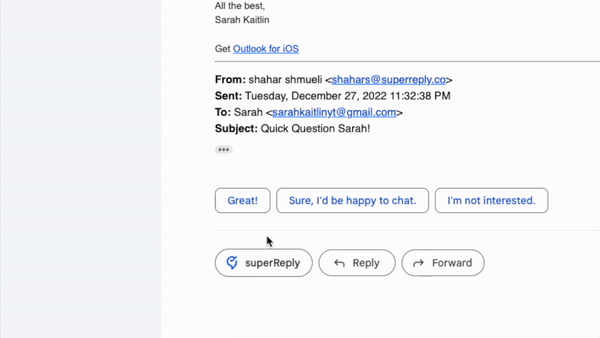 Easy Integration: conversation reply generator
With just one click, you can set up superReply into your Gmail and integrate it into your daily email routine. It's a free download and incredibly user-friendly.
Customizable Tone using AI
superReply allows you to reply to emails with different tones, ensuring that your communication is always professional and appropriate. Whether you want to sound casual or give a motivational boost, the extension is flexible and accommodating.
AI Customer Care Made Easy
As a business owner, you know that customer care is a top priority. With superReply, you can reply to inquiries faster, improving your response time and overall online reputation.
Say Goodbye to Grammar Mistakes with superReply AI
Super Reply eliminates the need to type from scratch, meaning that grammar mistakes and misspellings are a thing of the past.
Multi-Language Support with AI
superReply works wonderfully in Spanish, German, and Portuguese, making it an excellent solution for those who work in these markets.
Decline Politely & Negotiate Better using AI
superReply offers a "not interested" feature that allows you to decline offers while remaining polite and maintaining your professional relationships.
The AI in superReply is so powerful that it will help you negotiate better when you're working on a deal.
Try superReply for Gmail: free Download
Setting up superReply is easy with just one click using the Chrome extension.
To use superReply, open Gmail on your Chrome browser.
Open the email you want to respond to and click on the "superReply" icon.
Instantly receive three tailored response options to choose from.
Select the message that you like the most.
Make any necessary changes or tweaks to the response.
Hit send!